Visit Mahwah Ford Sales & Service for Genuine Ford Parts in Mahwah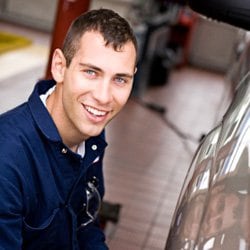 If you are looking for a place to get genuine parts for your Ford car, truck, or SUV, near Ramsey, NJ, the Parts Center at Mahwah Ford Sales & Service has got it covered. We carry parts for new Ford vehicles, as well as later models, to make finding a specific part for your new or like-new Ford a breeze! By using Ford parts, you are getting a product that is the exact fit for your vehicle. This not only ensures that you get the part that you are looking for right the first time, but you are getting the high-quality parts that your Ford deserves.
At our Parts Center, we have quality Ford parts at competitive prices. Whether you are searching for new windshield wiper blades, brake pads, or parts for the transmission or engine, you can find it at a reasonable price. When buying Ford parts, you get long-lasting reliability just as you do with Ford vehicles. Are you looking for a part for your Ford Escape, F-150, Fusion, Focus, or Explorer? Simply fill out a parts request online with the necessary information, and we will get back to you in no time! Our team of trained technicians would be glad to install the parts for you so that you can get your Ford up and running smoothly.
The Importance of Using Genuine Ford Parts
We have a warehouse that is stocked with genuine Ford parts and standout accessories that are from the manufacturer or are high-quality aftermarket parts that will specifically fit the needs of your vehicle. Whether it's wiper blades, cabin air filters, engine components, cargo storage, trailer hitches and everything else in between, you're covered with us. Our team is here to help those in Mahwah, Ramsey and Oakland, NJ to identify the Ford parts they need for their vehicle, order them for you, and provide quality expertise and pricing. Our Ford service center can use the parts we have available as well to perform maintenance and repairs on your Ford to keep it running at its best.
It's important to always find your automotive parts from a trusted source like the dealership. With newer vehicles, you might still have some warranty coverage for these parts which can help save on costs. But also, the right parts that fit your Ford vehicle keeps its overall value and integrity high, which means it will last longer, and provide you with quality driving. We only provide genuine Ford parts made for your vehicle and always go that route over aftermarket parts. If we do use aftermarket parts, they are met with the highest seal of approval, and ones we know will maintain your Ford's integrity. If you were to go out and find parts from unreliable sources, you might get a part that doesn't make the grade, and that can lead to damage to your vehicle and potentially many more costly repairs down the line.
Order Ford Parts at Mahwah Ford Sales & Service Today
Are you not sure which part is the right one for your Ford? We welcome you to contact our Parts Center at (888) 695-2071 to speak with an associate so that we can find the exact part for your vehicle. We look forward to helping customers around Oakland, NJ and Suffern keep their Ford in tip-top shape for years to come. We are open Monday through Saturday to better serve the needs of our customers all around the Monroe, NY area. We'll see you soon!